About Me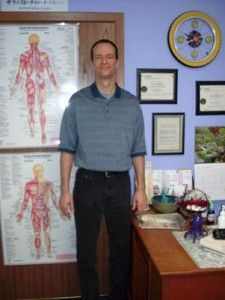 Eric Nyman – The Pain Specialist
Licensed Massage Therapist (L.M.T.)
Neuromuscular Therapist (N.M.T.)
Emergency Muscle Therapy
I'm a state licensed massage therapist specializing in treating clients with chronic and acute pain. I am certified in neuromuscular massage therapy, also known as trigger point therapy.
Education and Experience
I received my certification in massage therapy and neuromuscular therapy at Colorado Institute of Massage Therapy. I have 1150 hours of training and graduated in 1995. I have been helping relieve my clients of pain since 1996 in Rockford, Illinois.
Background
I have lived in Rockford since 1982 and graduated from East High School in 1989. I also graduated from Rockford College in 1993 with a Bachelor's Degree in Psychology and a minor in Sociology.
My dad retired in 2008 after being a professor at Rockford College for over 25 years. My mom is a retired pastor.
Interests
I have a real passion for health and fitness and enjoy spending time helping clients with these areas.
I love the outdoors and get outside every chance I can. Some of my hobbies include weight lifting and bicycling (both road and mountain). I also have and love old muscle cars, and motorcycles.
My first 24 hour challenge, The National 24 Hour Challenge, I successfully completed over 250 miles. This event is one that I look forward every year. I really enjoy ultra cycling events that consist of at least 150 miles or more.
I go to a chiropractor and get a massage from other massage therapists once a week to help me maintain my level of fitness and general health.
I hope this shows my commitment to my own health and fitness and my commitment to be a role model to the people I work with.